If you are looking for the best place to auction a Swiss watch or antique timepiece, Palm Springs Watch Buyer has a better alternative. We have helped watch sellers throughout Palm Springs sell expensive watches, while eliminating the substantial fees, wait, and uncertainty associated with large auction houses and online watch auctions.
Many Palm Springs residents believe that auctioning a watch is the best way to obtain a best cash offer for their timepiece. Beyond traditional auction houses like Christie's and Sotheby's, there are online auction portals like eBay and new online auctions specializing in valuable vintage watches and Swiss timepieces from brands such as Rolex and Patek Philippe.
However, if you have never tried to auction a watch in Palm Springs, you may be unaware of all that needs to be considered when making a smart selling decision. So, let's cover some of the important issues now and explain why thousands of clients have chosen Palm Springs Watch Buyer as the best place to sell a watch and antique timepieces.
Auctioning a Watch at an Auction House
Palm Springs sellers who wish to auction extraordinary antique watch that is valued into the five and six figures often look toward a prestigious auction house like Christie's and Antiquorum, who have long traditions of selling extraordinary timepieces.
What these sellers often do not realize is that auction houses charge more than just a commission on the final sales price. When auctioning a watch, there are also associated fees which can ultimately add up to 40% of the final hammer price.
In other words, after waiting up to six months for the watch auction to take place, you may end up receiving only 60% of the final sale price (IF your watch sells). And if your timepiece does not sell for the reserve price, you will actually lose money—because you still will be charged photography and processing fees.
That is why so many sellers of valuable wristwatches and pocket-watches choose to sell their timepiece(s) to Palm Springs Watch Buyer. We often can provide you with a generous cash offer that comes close to the final amount you might have received when auctioning your watch through a traditional auction house—and there is no wait or hidden fees attached.
Auctioning Swiss Watches at an Online Auction
In the past couple years, some online watch auctions have emerged which promise to get you more money for your expensive timepiece. It is always a good idea to approach these online watch auctions with caution.
Keep in mind that an online watch auction is only as good as its network of buyers–and it takes many years (if not decades) to establish a strong international network of watch collectors and estate buyers.
The only online watch auctions worth considering are those who have a deep background in rare timepieces that can be easily verified. Their watch "experts" should provide first and last names, so their credentials and experience can be assessed. And the business should be registered with the Better Business Bureau with an A rating.
Palm Springs sellers should also be aware that the initial appraisal of your timepiece could be much higher than the final auction price. And if the watch auction does not provide a minimum reserve price, you will be required to accept that cash amount.
Check whether the auction website is publishing prices from past luxury watch auctions. While the auction prices you see may be higher than what your local pawn shop or jewelry store offered, it could be thousands of dollars less than what Palm Springs Watch Buyer would pay you for your contemporary prestige watch or antique timepiece.
Why is the amount so much less? Because the vast majority of watch buyers at online auctions are wholesale watch dealers who will pay you the wholesale dealer price for your watch, minus the commission and fees taken by the auction. When all is said and done, you are basically adding one more middle man (i.e. the auction) between you and the wholesale watch dealer, which ends in you getting substantially less money for your watch than if you had gone directly to a high-paying honest watch buyer like Palm Springs Watch Buyer.
How do we know all this? Because we often work with clients who have tried for months to sell their luxury watches via an online watch auction, and were unable to obtain a cash amount they thought was fair.
When you sell your watch to Palm Springs Watch Buyer, we eliminate the auction middle man and all of the uncertainty that comes with trying to auction a valuable timepiece. Our owner Fletcher Blackburn is one of the most trusted buyers of fine watches in the country. He and his team bring 50+ years of combined expertise to the table when purchasing your luxury watch. We tell you exactly how much your timepiece is worth (explaining in detail how we have arrived at that price). And we pay you immediately in cash.
Should I Auction My Watch on eBay?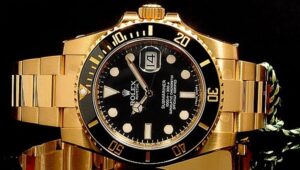 When it comes to auctioning Swiss watches and valuable timepieces on eBay, this generally works best only for those who are established fine jewelers who have bricks-and-mortar businesses.
There are simply too many fake watches (especially Rolexes) on the market. Thus the potential for fraud is too great for most buyers to risk spending thousands of dollars on a luxury timepiece on eBay—even with the increasing safeguards that eBay has put into place.
Sellers should also take into account the hassle and time involved in setting up a proper and professional looking eBay listing for their prestige watch—including well-written text descriptions, quality photographs, etc.
In contrast, selling your watch to Palm Springs Watch Buyer is very easy and fast. We guarantee a fair and prompt cash offer for your timepiece, while having complete confidence in the security and confidentially of the process.
Let us help you sell your valuable watch for more cash in Palm Springs today. Call our friendly and knowledgeable staff to arrange a free, no obligation, appraisal of your fine timepiece in Palm Springs, CA.